Mobile Tank Farm Fire Fighting System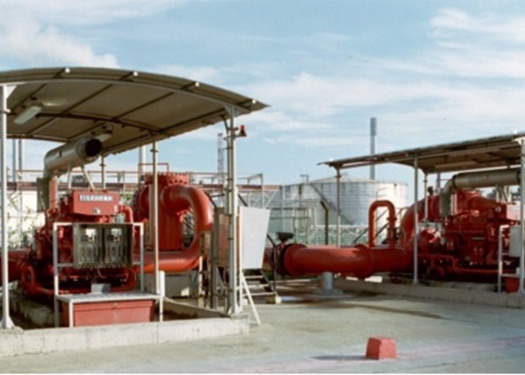 Project description
The Pulau Bukom manufacturing site in Singapore is Shell's largest integrated refinery and chemicals site in the world. The facility can produce up to 500.000 barrels of oil per day and has a local tank storage facility. To enable fire fighting at the largest storage tanks, Shell required a mobile solution that would make use of the existing fire ring main.
For this project Hydrodieselhas delivered a complete mobile tank farm fire fighting system, suitable for hydrant pumping, enabling Shell to fight fires in storage tanks with diameter up till nearly 80 meters.
Customer / End User:
Shell Eastern Petroleum (Pte) Ltd.
Location:
Pulau Bukom–Singapore
System capacity:
2.800 m³/h (12.000 USGM)
Scope of supply:
One (1) complete mobile fire fighting system, comprising of:
2x Skidmounted booster pump set to feed the fire ring main (1.400 m³/h @ 7 bar / 6.000 USGM @ 100 Psi)
2x Trailer mounted booster pump set with monitor (1.400 m³/h @ 13 bar / 6.000 USGM @ 190 Psi)
2x Fog/Jet Monitor trailer (1.400 m³/h / 6.000 USGM)
2x Trailer mounted, diesel driven foam injection pump (100 m³/h / 440 USGM)
Flathose 6" (2.000 m) in lengths of 50m
Factory acceptance test with site start-up and commissioning activities